About Us
JOEL CHAMASCHUK
Chief Storyteller
"To me, wine is perhaps the greatest gift that we have unlocked from nature. It is there with food, music and art as something that we have created from the most basic ingredients, that has the ability to touch the soul and bring out a range of emotions from even a single sip just as great art does from that first glance. Few things are as perfect as sharing fine wine with great friends with terrific food. Conversation is amplified, engaging and never more meaningful".
Quick bio:
Joel, a life-long Vancouver boy, has a Bachelor of Science from Simon Fraser University focused on Business, Computing Science and Mathematics. He spent the first 30ish years of his career in various technology related roles largely in a management capacity, including sales and business development. It was the experience with building businesses that provided the confidence that Linda and he could build a winery, themselves, from this small plot of land purchased on the Naramata Bench. "It certainly can be viewed as a big risk, but we truly believe that at some point in your life, it's okay to throw caution into the wind and do something you're passionate about. If not now, when? We're hard workers and have always adapted to new challenges, which is why I'm so excited about this next chapter."
Five Fun Facts about Joel:
Joel's taste for wine developed later in life. "Growing up, there really wasn't wine at the dinner table. Dad had his "Cherry Jack" which I used to sautee mushrooms. I can't say I liked that wine as something to drink, but it actually worked well with mushrooms. Yes, mushrooms with Cherry Jack will take the culinary world by storm."
Joel entered his first Ironman triathlon as a result of a bet over a few cocktails with his good friend, Stacey. Stacey was an aspiring Elvis tribute artist so the bet was simple "I'll sign up for Ironman if you sign up for the Elvis competition in Penticton". And thus a pact to knock off a bucket list item was formed (even if fueled by mojitos, it's still a pact). Joel completed his first Ironman in 2014 but Stacey took his game to a whole other level by competing in and winning the non-professional division of the Penticton Elvis festival in 2016. Just so we're clear, no, Joel did not win his event. And he likely won't win his age group unless there's an age group for 100+ year old athletes in 50 years.
Joel's go-to karaoke song is "Chantilly Lace" by the Big Bopper. Actually, it's his only song. And only after several drinks. Or a lot of mai tai's in Hawaii. "It's a fun song, and most importantly (no offense to the Big Bopper), it's relatively monotone. I wish I could sing something like 'Creep' by Radiohead, but with no musical ability, that just won't happen. Not in this lifetime. Or any alternate universe".
Joel's best cycling story was when he was 'winning' an event he hadn't entered. "I was training for Ironman 2016 and decided to ride a portion of the Gran Fondo course in Penticton on the same day as Fondo (but earlier to avoid being in the race) knowing there wouldn't be cars on the road. I left from Penticton and had a head start to Okanagan Falls since I didn't do the loop out to Summerland. I guess I looked legit because people were cheering for me and offering me goodies at the aid stations. When I told them I wasn't competing, twice I heard 'that's okay, you're winning!'. I even had a temporary motorcycle escort (offered to the leader) in Oliver until the rider said 'hey… you're not in this race, are you?' Eventually, the lead peloton caught me, with the lead rider throwing a couple WTF looks at me as he passed. Being around these guys and hanging in with the second group of riders for about 10km was just awesome. They pushed me harder than I normally would have ridden. For an hour I got to experience what it was like to be in that elite category".
Being in the kitchen is as close to being an artist as Joel will come. "I can't sing or paint, but I'm pretty good with a knife and frying pan. I don't really use recipes and I know it's really frustrating to shop with me because I always need to start with what looks fresh and inspiring, then work from there. For a fancier meal, it may mean visiting the vegetable section several times as I develop the meal and wine pairings in my mind. I'm a huge advocate of fermented products as they add a rich umami characteristic. Almost every meal has soy sauce, fish sauce, homemade hot sauce or coffee kombucha".
LINDA CHAMASCHUK
Chief Consumption Officer
"There's nothing that I enjoy more than pouring a glass of wine after a hard day's work, and sitting on our patio chairs enjoying our amazing view and watching the sunset. Even better if we get to share it with friends!"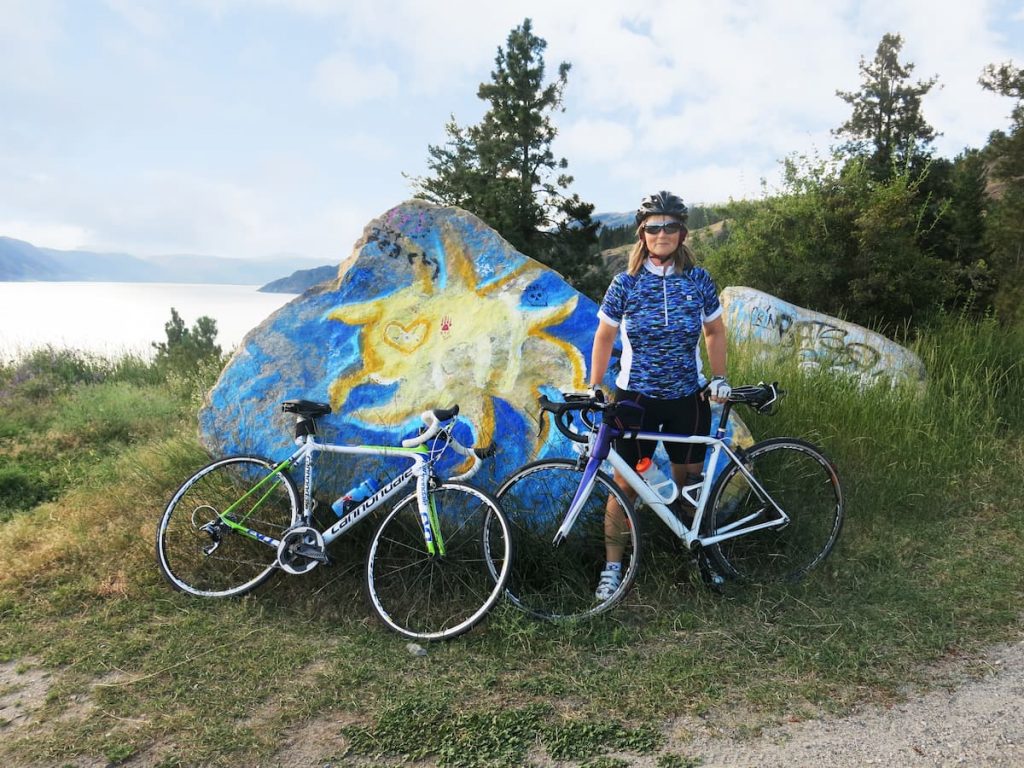 Quick bio:
Linda was raised in Powell River, BC but spent most of her career in Vancouver after obtaining her Diploma in Computer Systems from BCIT. She worked for private organizations and consulting companies before finally starting her own consulting company. Working in the field of information technology, she continues to work remotely from Penticton because opening a winery requires a lot of capital! Her specialty is business analysis and leadership in both the private and public sector. In layman's terms, this means understanding an organization's business objectives and current business processes, and then determining how revising business processes or implementing technology might address some of the business road blocks. In their early years together, Linda didn't understand Joel's need for leaving a legacy behind but now gets it, and is excited to be building that together with her Sweetie!
Five Fun Facts about Linda:
Linda's first experience with wine was with her mom's homemade blackberry wine. "I remember going out and getting scratched in the prickles picking blackberries, but the wine was worth it. Or so I thought at that tender young age. If I tried it today, I might spit it out because it was super sweet. But that's how I got into wine – anything sweet was delicious! Luckily I have been able to expand my taste buds into more dry wines."
Linda is a cat mom to 4 cats. "It's kind of a hobby that we keep acquiring cats. When I lost my calico cat (Stinker) who I had nursed through several chronic diseases (renal failure, lymphoma), we took some of her things to the shelter. While we were there, two kittens really caught our eye, and so before you knew it, they were coming home with us. We know that most vineyards have dogs, but the cats have already told us in no uncertain terms, that if that happens, they will protest and stop eating. And they are the boss!" Edit: we are now down to 2 cats 🙁
Linda really, really (no I mean really) loves the color PURPLE! Did you happen to notice any purple in our website??? You can thank me for all that beautifulness!! It's also the color of grapes and wine so they know a good thing too. You see that picture of me with my road bike above? It was white when I bought it…. boring! I had it painted with a beautiful shade of gorgeous metallic purple – now she looks purdy!!
Linda's best cycling story is about her last training ride in the Okanagan before doing Gran Fondo Whistler in 2015. "Joel was cycling the bike leg in Challenge the next day, so I had to head out alone. At around McLean Creek Rd, it started raining. By the time I was able to take cover in the gas station at Okanagan Falls, it was bucketing rain! I tried texting Joel to come pick me up… no response. Since many friends were in the area for Challenge, I put out a plea on Facebook… no response. After mentally preparing for an ugly ride back to Penticton, after 40 minutes, the skies finally cleared up. With lakes in my shoes, I bit the bullet and headed south… as much as I really wanted to head north and find a nice warm bath and glass of wine. I found out later the reason Joel didn't respond was because he was having a leisurely massage the day before his race while I was wet and freezing!!! In retrospect, perhaps it was best that he was unavailable as I would have totally bailed on that ride and not gotten in my longest training ride ever!
Linda doesn't cook. I mean unless you call making salads and eggs cooking. She also is the kombucha maker of the family. She is extremely fortunate to have married someone who is passionate about food and cooking! And she is very skilled at eating… too skilled perhaps.